Hitachi is a Japanese manufacturing corporation, with its headquarters being located in Tokyo. Hitachi's corporate vision is to simplify the customer's high-tech processes.

Hitachi within spectrophotometry
As part of Hitachi's corporate vision, to simplify the customer's high-tech processes, Hitachi's mission is to help customers be fast-moving, successful, cutting-edge businesses.
Hitachi is developing a global business around fields including Nano-Technology Solutions, Value Chain Solutions and CoreTechnology Solutions. Finally, Hitachi is also an important manufacturer within the field of Analytical and Medical Solutions, as Hitachi offers a full range of high quality UV-Vis-NIR and Fluorescence spectrophotometers, from teaching and routine instruments to research-grade systems.
To learn more about Hitachi watch the video below.
The following pages contain a quick review of different Hitachi instruments. Click on the links on each instrument to learn more about it:
Hitachi UH4150
The Hitachi UH4150 builds on the previous model, Hitachi U-4100, which is an expert in solid-phase spectrophotometry. The Hitachi UH4150 features a higher throughput than Hitachi U-4100.


Hitachi UH5300
The Hitachi UH5300 uses a long-life xenon flash lamp, and features double-beam optical system. The level of performance of the Hitachi UH5300 allows for highly accurate data to be obtained by the users.


Hitachi UH5700
The Hitachi UH5700 achieves both high measurement precision and high throughput. In addition, the Hitachi UH5700 handles the UV, Vis, and NIR regions, making the instrument useful for many purposes.

Some of the Hitachi instruments are presented in the following:
Hitachi UH5300
The Hitachi UH5300 uses a long-life xenon flash lamp. This light source results in lower operation cost. In addition, the Hitachi UH5300 uses a double-beam optical system that ensures extended periods of data stability compared with the single-beam optical system.
Hitachi UH5300 also offers a new type of operation in laboratories. Operation is possible by use of tablet terminals or PC. In addition, remote control through wireless communication is also possible with the Hitachi UH5300 spectrophotometer.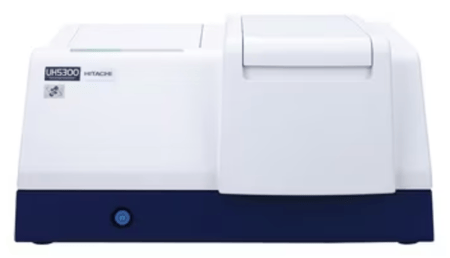 Read more about the Hitachi UH5300 here.
Hitachi UH5700
The Hitachi UH5700 is an UV-Vis-NIR spectrophotometer that uses a continuously variable slit in the NIR region, in which the slit automatically widens when measuring low quantities of light and narrows when measuring large quantities of light. The spectrophotometer achieves low-noise measurements.
In addition, the Hitachi UH5700 achieves best-in-class levels of low stray light and high photometric range using a Czerny-Turner mounted single-monochromator and a newly developed grating.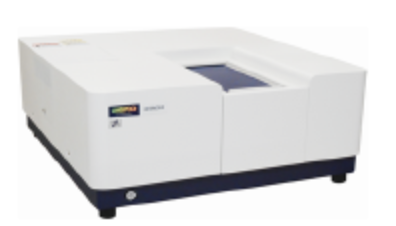 Read more about the Hitachi UH5700 here.
This information is meant for guidance only. Copenhagen Nanosystems ApS takes no responsibility or liability for the information provided. Please write to sales@cphnano.com if you want to add your UV-Vis instrument to the list or let us know of any mistakes.