SpectroLink™ connects to your UV-VIS spectrophotometer and acquires, analyzes and extracts results in one easy workflow via the online platform SpectroWorks™.
Easy plug and play instrument connectivity.
---
Learn more about SpectroWorks™ here.
Find SpectroLink™ flyer here.
Spectrophotometers are important instruments in laboratories. However, collection, storage and sharing of data can be a tedious manual task which takes up valuable time.
SpectroLink™ simplifies your spectrophotometer workflow to a three step process allowing you to quickly acquire, analyze and extract results. No more time wasted on trouble with file formats, data transfer or sharing results.
Together with SpectroWorks™, SpectroLink™ solves this problem by effortlessly connecting instruments to your browser and analyzing the data, so you can focus on the work.
Acquire. Analyze. Extract.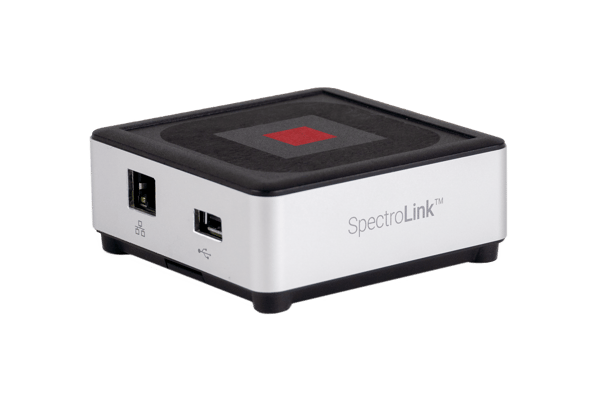 Acquire, analyze, extract results
Improved productivity with faster workflow from acquiring data to extracting results.
All major UV-VIS spectrophotometer brands supported seamlessly out of the box.
Guaranteed 5 years of data
SpectroLink™ includes 5 years of free smart connectivity to your instrument.
Easy to use and compatible with multiple users and team collaborations.
Contact us for more information
Copenhagen Nanosystems ApS,
Hørmarken 2, DK-3520 Farum, Denmark
Tel: +45 36 99 27 46