Founded in Kyoto 1875, Shimadzu has been supplying products to customers for over 145 years. Today, Shimadzu is a global manufacturer and leader in the development of advanced technologies, including UV-Vis spectrophotometers.
Shimadzu within spectrophotometry
"Contributing to Society through Science and Technology" defines the corporate philosophy of Shimadzu. Founded in Kyoto 1875, Shimadzu has been supplying products to customers for over 145 years. Today, Shimadzu is a global manufacturer and leader in the development of advanced technologies and has been developing UV-Vis spectrophotometers for more than 60 years.
One of the most popular spectrophotometers from Shimadzu is the UV-1800 which satisfies the standards of wavelength resolution demanded by both the Japanese- and European Pharmacopoeia (official standards for quality control of medicines).
In 2018 Shimadzu celebrated its 50th anniversary of its presence in Europe by realising the UV-1900 model, a spectrophotometer futuring the fastest level scan function of the industry. As if this wasn't enough, the UV-2600 was introduced a few years later, extending the wavelength range to 1400 nm.
To learn more about the values of the Shimadzu company watch the video below.
The following pages contain a quick review of the different Shimadzu instruments. Click on the links on each instrument to learn more about it:
Some of the Shimadzu instruments are presented in the following:
Shimadzu UV-1900
The Shimadzu UV-1900 is equipped with an ultrafast scan function that enables data acquisition as fast as 29.000 nm/min. The Shimadzu UV-1900 patented Low-Ray-Ligh® diffraction grating technology ensures low stray light with high resolution. The Shimadzu UV-1900 spectrophotometer can connect with Shimadzu's analysis data management systems (LabSolutions), our SpectroWorks™, and NanoCuvette™ One (15 mm beam height).
The technically advanced features of Shimadzu UV-1900 improve performance, usability and regulatory compliance, making Shimadzu UV-1900 ideal for analysis within several fields, including foods, life sciences, pharmaceuticals, chemistry, and electronics applications.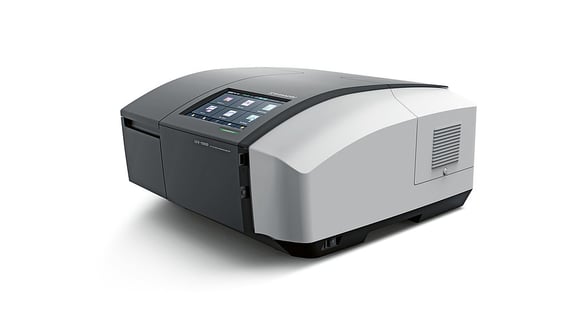 Shimadzu UV-1800
The most important features of Shimadzu UV-1800 include high resolution, compact design and user friendly data access. The Shimadzu UV-1800 spectrophotometer is equipped with various measurement modes including photometric, spectrum, kinetics, time-scan, quantitation, multi-component quantification and biomethod. The advanced features and various measurement modes make the Shimadzu UV-1800 ideal for many applications.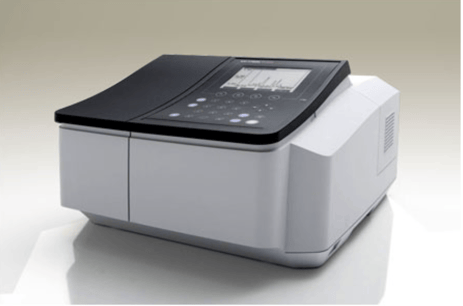 Read more about the Shimadzu UV-1800 here.
Shimadzu UV-2600
The Shimadzu UV-2600 spectrophotometer has been developed for a wide range of research tasks. Therefore, the user can easily expand the instrument in order to suit the measurement objective. The Shimadzu UV-2600 achieves the lowest stray light in its class and allows the user to analyze samples with organic and inorganic compounds, biological samples, optical materials and photovoltaics. The most important feature of Shimadzu UV-2600 is the ability to perform wavelength measurements up to 1400 nm. The Shimadzu UV-2600 is not only unique in terms of performance, as it has also been shown that the Shimadzu UV-2600 is more environmentally friendly than conventional models. All these features are presented in a compact, and space-saving design, with an easy-to-use software.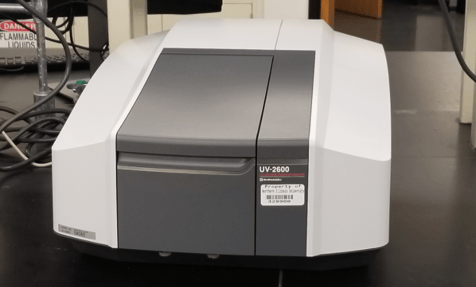 Read more about the Shimadzu UV-2600 here.
Our relationship with Shimadzu
We have entered a new collaboration with University College Copenhagen and Shimadzu Scientific Instruments Denmark. University College Copenhagen is one of the largest higher education institutions in Denmark with more than 20000 students and Shimadzu is one of the world leaders within UV-Vis instrumentation.
The tree-year collaboration upgrades teachers and students at the laboratory eductions in using the new flagship UV-1900i from Shimadzu together with NanoCuvette™ One (0.5 μL concentrations/kinetics) and NanoCuvette™ S (particle size distributions).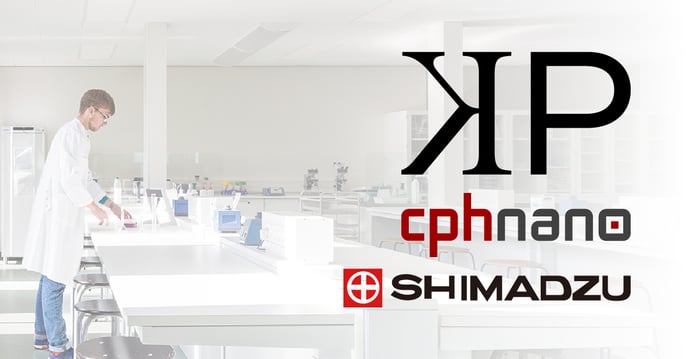 This information is meant for guidance only. Copenhagen Nanosystems ApS takes no responsibility or liability for the information provided. Please write to sales@cphnano.com if you want to add your UV-Vis instrument to the list or let us know of any mistakes.