Here is four quick steps to get started with your SpectroLink™
Follow steps 1-4 to get started
It is important to follow the steps in this specific order!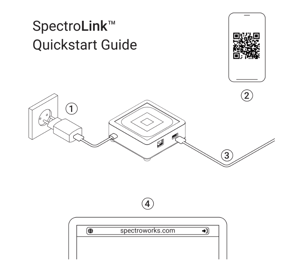 Connect the included USB-C to USB-A cable to your SpectroLink™and power adapter. Plug in the power adapter to a poweredoutlet.
Install the BerryLan WiFi connect app to your Android or iOS ba-sed device. Access the app and follow the instructions for settingup the WiFi on your SpectroLink™. Your SpectroLink™ will appearas "CPHNANO" on your iOS or Android device after 1 minute frompowering it on.
Now connect a USB cable to your spectrophotometer and theother end to your SpectroLink™. Enable USB mode if necessary.
Go to spectroworks.com, sign in to your account, click on the"SpectroLink™" to see the grid view. Click "+ Add" to add yourdevice. Enter the device code located on the bottom of yourSpectroLink™ and then close the window. Your SpectroLink™ isnow ready for use!


Link to WiFi setup app:https://spectrolink.cphnano.com/setup
Link to user manual:https://spectrolink.cphnano.com/user-manual